Ludwig Van Beethoven was a German composer and pianist.
Beethoven remains one of the most admired composers in the history of Western music; his works rank amongst the most performed of the classical music repertoire, and span the transition from the classical period to the romantic era in classical music. His career has conventionally been divided into early, middle, and late periods. The "early" period, during which he forged his craft, is typically considered to have lasted until 1802. From 1802 to around 1812, his "middle" period showed an individual development from the "classical" styles of Joseph Haydn and Wolfgang Amadeus Mozart, and is sometimes characterized as "heroic". During this time, he began to suffer increasingly from deafness. In his "late" period from 1812 to his death in 1827, he extended his innovations in musical form and expression.
Beethoven dated his hearing loss from a fit he suffered in 1798 induced by a quarrel with a singer.] During its gradual decline, his hearing was further impeded by a severe form of tinnitus. As early as 1801, he wrote to friends, describing his symptoms and the difficulties they caused in both professional and social settings.
In the years from 1810, Beethoven composed many of his most admired works. He composed his Missa Solemnis in the years 1819–1823, and his final, Ninth, Symphony, one of the first examples of a choral symphony, from 1822–1824. Written in his last years, his late string quartets of 1825–1826 are amongst his final achievements. After some months of bedridden illness, he died in 1827. Beethoven's works remain mainstays of the classical music repertoire.
Protection from the elements can be so stylish! The particularly attractive full cassette of this awning protects the awning fabric and all component parts from dirt and weather. All components of the structure are distinguished by an extremely long service life and stability. High quality custom-made awning with particularly attractive full cassette, which protects the awning fabric from weather interference.
The Benefit of buying a Spettmann Beethoven Awning
Beautifully designed full cassette providing the maximum protection for the fabric and all the component parts.
The most advance smart-shade technology
Precise custom-made awnings from 8' to 20'
Wide range of arm lengths – 6', 8', 10', 12' & 13'
Large selection of frame color choices
Quick order lead time
Large selection of fabrics-(for Drop Ship program -MOQ)
Replaceable cover
Maintenance-free
5 year warranty
Large selection of accessories and options (see "FEATURES" & ACCESSORIES")
Highly qualified technical support team from U.S., Germany and factory direct.
Robust vertical impact protection against wind
Available with manual operation, electric hardwire motor or remote operated motor
Brackets and fittings included in delivery package
Spettmann Basic
Our basic package includes a 7:1 ratio gear box and a 5' crank handle. Our gear drive allows for a quick and easy opening and closing. The portable crank handle can be stored until needed.
Spettmann Plus
Electric Motor with Switch
The push of a button and a 120volt connection are enough, and in just a few seconds, your patio on door/window will be transformed into a shady outdoor area. An electric motor integrated into the fabric roll makes it possible. Quietly and conveniently.
Electric Motor with Remote and Emergency Manual Override
There is construction work going on outside your home and suddenly the power supply is interrupted. For cases like these, Spettmann offers an electric motor with an additional manual winder. So even if worst comes to worst, you will be well equipped.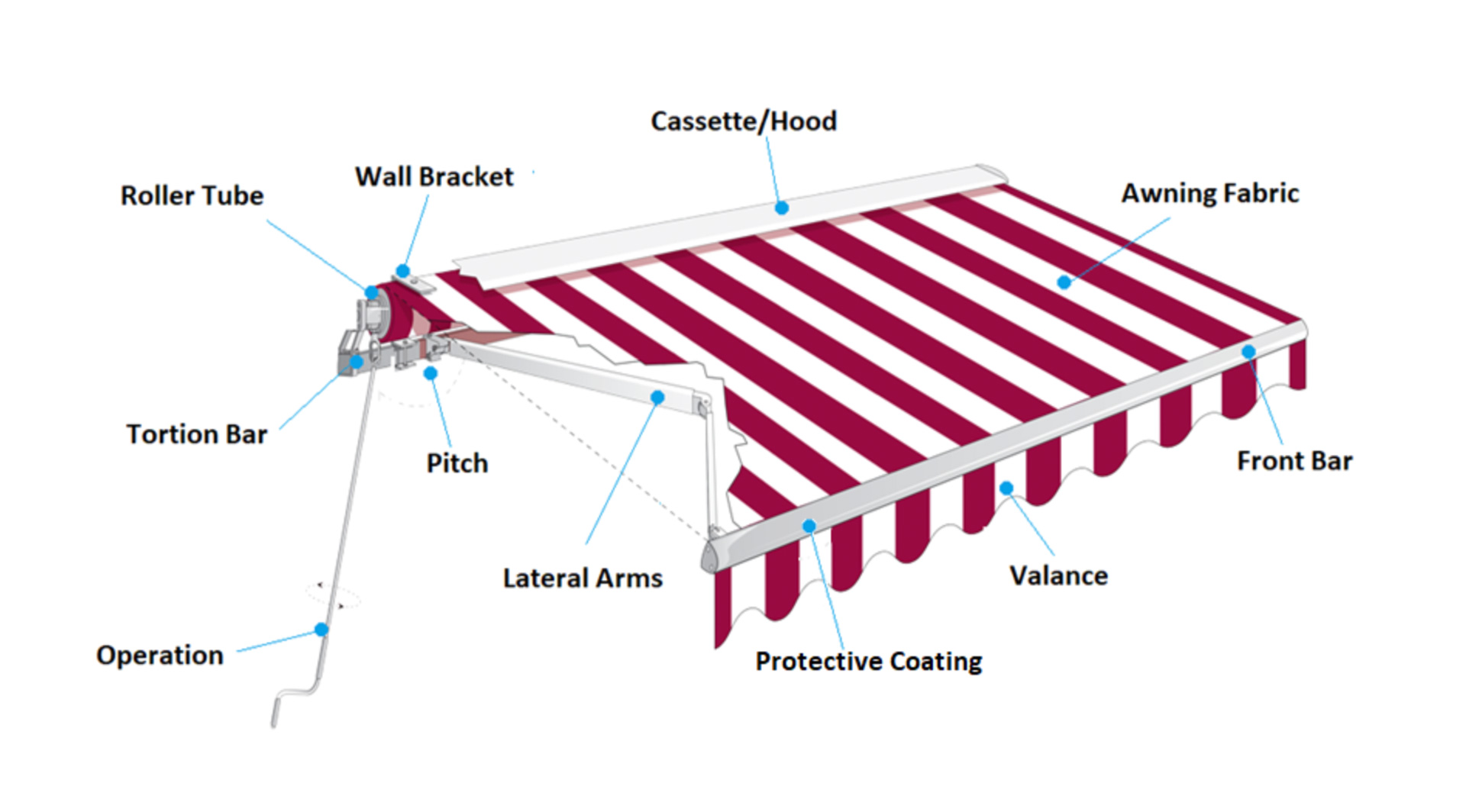 Roller Tube
We carry both 70mm @ 20' & 78mm @ 23' fabric roller tubes. They are roll formed using galvanized steel to precise dimensions with a thickness gauge of .047 – .057 inches.
Wall Bracket
Spettmann offers installation brackets for walls, ceilings, roofs & rafters. Made from the highest grade of Aluminum.
Cassette/Hood
Protecting the fabric is very important for long lasting shade. We offer a hood for the basic open style awnings to a semi-cassette and a full cassette for maximum protection.
Awning Fabric
The awning fabric provides comfortable shade and protection UV rays and glare. The fabric Spettmann offers are made of fade and weather resistant material.
Front Bar
The front bar forms the front edge of the awning and helps keep the fabric straight and taut. The front bar is made of extruded aluminum.
Valance
The valance not only provides an attractive face for the awning but also additional shade as the sun sets in the evening.
Protective Coating
All our awning component parts are protected with the highest quality of powder coating that will provide years of enjoyment.
Lateral Arms
The arms, with internal springs, extends and retracts the awning. The arms continuously apply tension on the fabric keeping the fabric straight and taut.
Operation
The awning can be operated using a manual gear drive or electric motor. The motor can be operated by a remote control or a wall switch
Pitch
The range of pitch on our awning is 0 to 45 degrees, however, we recommend 15 degrees. We carry the standard adjustable pitch unit along with various crank pitch units.
Torsion Bar
The torsion bar is the foundation of the awning. All the load and stress is transferred onto the torsion bar, so it is important to have a strong and secure torsion bar.
Width Sizes: 8' – 20' (custom sizes available)
Projections: 6', 8', 10' & 12'
Arm Style: S2 Arm with internal spring
Standard Features: Full Cassette, S2 Arms, Adjustable Pitch
Operations: 7:1 Manual Gear Drive or motorized available