KEPLER
(SKY)
Progressive awnings designed with a protective housing too shield fabric roll from the elements
Johannes Kepler (1571-1630)
Johannes Kepler, a German astronomer, mathematician and astrologer was born on December 27, 1571 at Weil der Stadt, Swabia in south-west Germany. Kepler is regarded as a towering figure of the scientific renaissance and a seminal catalyst in bridging the medieval cosmology and the modern world view. Kepler established the three laws of planetary motion and described a universe in which planets spinning on their axis rotate around the sun in elliptical orbits and provided the mathematical equations to verify his premise. Kepler's insistence that all theories must be confirmed by precise, verifiable data made him a seminal figure in the development of empiricism and the scientific method.
Johannes Kepler also studied optics and designed a telescope with two convex lenses. He further utilized his optical knowledge in making important contributions to the design of the refracting telescope. Johannes Kepler lived during the same period as Dutch lens-maker Hans Lippershey and Galileo Galilei, which influenced his scientific experiments with both traditional Galilean telescope and telescopes that he made by his own hands. One such telescope was the famous Keplerian Telescope. This telescope was different from all others because it used convex eyepiece lens that enabled viewers to see much larger field of view.
A deeply religious man, Kepler viewed the universe as the perfect creation of God, the prime mover and perfect geometrician. It was up to the scientist to unravel the natural laws of providential design. His groundbreaking theories and rigorous methodologies laid the path for Newtonian physics and the laws of universal gravity, which clearly marked the arrival of the modern era.
Protection from the elements can be so stylish! The particularly attractive semi-cassette of this awning protects the awning fabric from dirt and weather. All components of the bearing structure are distinguished by an extremely long service life and stability. High quality custom-made awning with particularly attractive semi-cassette, which protects the awning fabric from weather interference.
The Benefit of buying a Spettmann Kepler Awning
Beautifully designed semi-cassette providing great protection for the fabric and roller tube.
The most advance smart-shade technology
Precise custom-made awnings from 8' to 20'
Wide range of arm lengths – 6', 8', 10', 12'
Large selection of frame color choices
Quick order lead time
Large selection of fabrics- (for Drop Ship program -MOQ)
Replaceable cover
Maintenance-free
5 year warranty
Large selection of accessories and options (see "FEATURES" & ACCESSORIES")
Highly qualified technical support team from U.S., Germany and factory direct.
Robust vertical impact protection against wind
Available with manual operation, electric hardwire motor or remote operated motor
Brackets and fittings included in delivery package
The Benefit of a Drop-Valance
The special thing about the Drop-Valance awning is its vertically lowerable edging. It protects against curious neighbors, and it guarantees optimal protection from glare even when the sun is low in the Kepler.
Edging lowerable by up to approximately 6'
Lower rod on edging for stability in wind
Custom manufacturing down to the last inch
Extendable valance shade
The Benefit of an Easy Crank Pitch
The Crank Pitch will protect you from sunlight at any time of day. The expanded pitch adjustment makes it easy for you to adjust the position of the awning to suit the location of the sun in the Kepler.
Continuous pitch adjustment between 0 and 45 degrees
Easy manual operation
Custom manufacturing down to the last inch
Brackets and fittings included in delivery package
The Benefit of a XXL "Crossover Arm" System
No patio is too deep for the XXL. The extremely generous depth, together with a narrow width, makes it the ideal shade option for narrow, low balconies.
Extra depth, up to 12'
Robust hinged arms placed on top of each other
Custom manufacturing down to the last inch
Brackets and fittings included in delivery package
Extendable valance shade
"The Kepler semi-cassette awning by Spettmann is a perfect solution for many garden light and temperature control goals. Create the perfect awning for your needs by adding some of the many options available.
Spettmann Basic
Our basic package includes a 7:1 ratio gear box and a 5' crank handle. Our gear drive allows for a quick and easy opening and closing. The portable crank handle can be stored until needed
Spettmann Plus
Electric Motor with Remote and Emergency Manual Override
The push of a button and a 120volt connection are enough, and in just a few seconds, your patio on door/window will be transformed into a shady outdoor area. An electric motor integrated into the fabric roll makes it possible. Quietly and conveniently.
Eletric Motor with Switch
There is construction work going on outside your home and suddenly the power supply is interrupted. For cases like these, Spettmann offers an electric motor with an additional manual winder. So even if worst comes to worst, you will be well equipped.
Built-In LED Lights

Electric Motor with Switch (hardwire)

Manual Override Electric Motor (w/plug) and Remote Control

Wind Sensor

Rafter Bracket

Various Installation Brackets

Adjustable Pitch

XXL (Crossover arms) system

Extendable Valance Shade
Coated steel bearing tube

High quality powder coating

Robust vertical impact protection against wind

Easy to operate pitch adjustment between 0 and 45 degrees

Custom manufacturing down to the last inch, from a width of 8' 

Standard mounting brackets included in delivery package

Aluminum protective cassette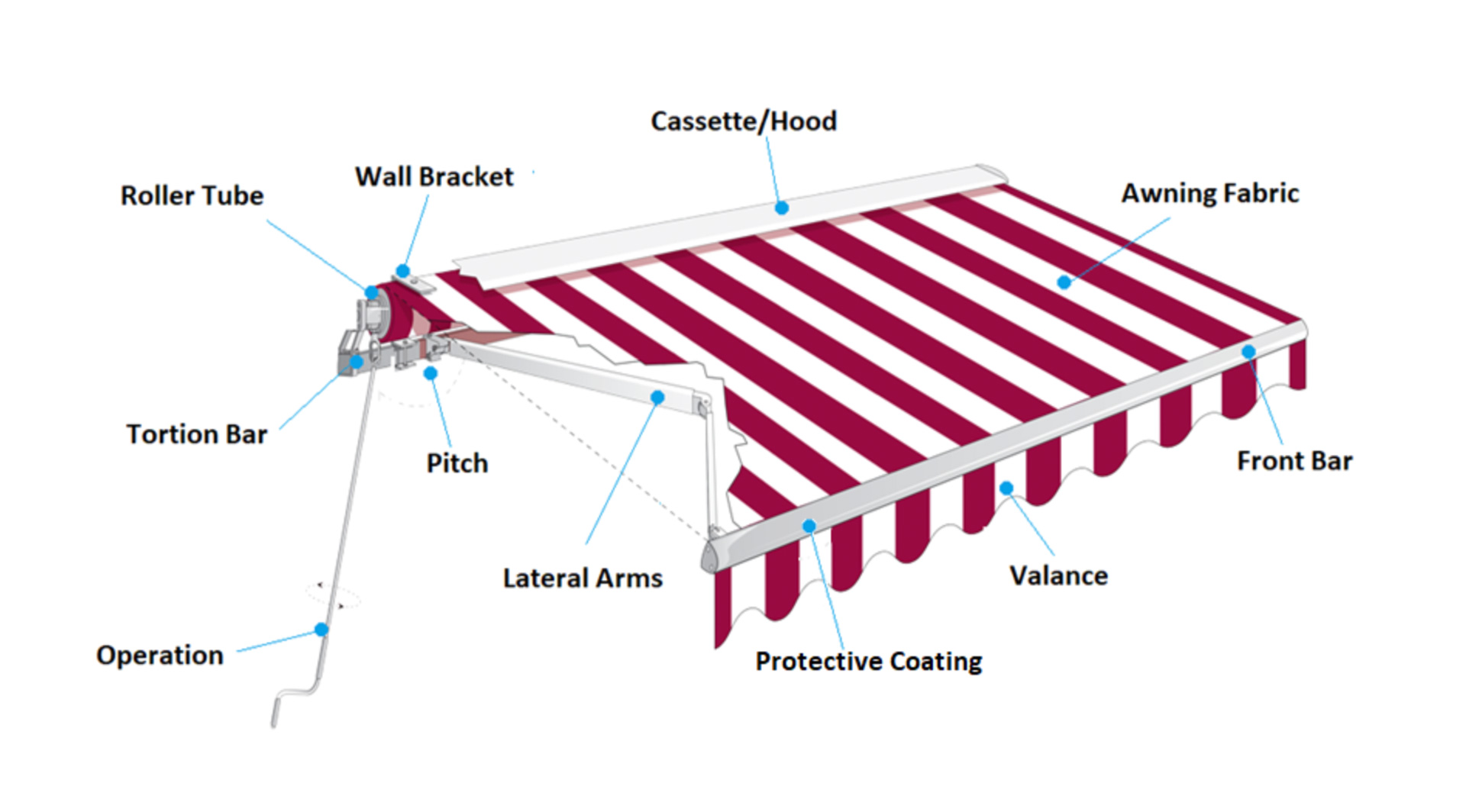 Roller Tube
We carry both 70mm @ 20' & 78mm @ 23' fabric roller tubes. They are roll formed using galvanized steel to precise dimensions with a thickness gauge of .047 – .057 inches.
Wall Bracket
Spettmann offers installation brackets for walls, ceilings, roofs & rafters. Made from the highest grade of Aluminum.
Cassette/Hood
Protecting the fabric is very important for long lasting shade. We offer a hood for the basic open style awnings to a semi-cassette and a full cassette for maximum protection.
Awning Fabric
The awning fabric provides comfortable shade and protection UV rays and glare. The fabric Spettmann offers are made of fade and weather resistant material.
Front Bar
The front bar forms the front edge of the awning and helps keep the fabric straight and taut. The front bar is made of extruded aluminum.
Valance
The valance not only provides an attractive face for the awning but also additional shade as the sun sets in the evening.
Protective Coating
All our awning component parts are protected with the highest quality of powder coating that will provide years of enjoyment.
Lateral Arms
The arms, with internal springs, extends and retracts the awning. The arms continuously apply tension on the fabric keeping the fabric straight and taut.
Operation
he awning can be operated using a manual gear drive or electric motor. The motor can be operated by a remote control or a wall switch
Pitch
The range of pitch on our awning is 0 to 45 degrees, however, we recommend 15 degrees. We carry the standard adjustable pitch unit along with various crank pitch units.
Torsion Bar
The torsion bar is the foundation of the awning. All the load and stress is transferred onto the torsion bar, so it is important to have a strong and secure torsion bar.
Width Sizes: Standard 8' – 20' (custom sizes are available, over 20' requires a splice)
Projections: 6', 8', 10' & 12'
Operations: Gear Drive or motorized available