Wilhelm Richard Wagner 22 May 1813 – 13 February 1883) was a German composer, theatre director, polemicist, and conductor who is chiefly known for his operas (or, as some of his mature works were later known, "music dramas"). Unlike most opera composers, Wagner wrote both the libretto and the music for each of his stage works. Initially establishing his reputation as a composer of works in the romantic vein of Carl Maria von Weber and Giacomo Meyerbeer, Wagner revolutionized opera through his concept of the Gesamtkunstwerk ("total work of art"), by which he sought to synthesize the poetic, visual, musical and dramatic arts, with music subsidiary to drama. He described this vision in a series of essays published between 1849 and 1852.
His compositions, particularly those of his later period, are notable for their complex textures, rich harmonies and orchestration, and the elaborate use of leitmotifs—musical phrases associated with individual characters, places, ideas, or plot elements. His advances in musical language, such as extreme chromaticism and quickly shifting tonal Centre's, greatly influenced the development of classical music. His Tristan und Isolde is sometimes described as marking the start of modern music.
Wagner had his own opera house built, the Bayreuth Festspielhaus, which embodied many novel design features. The Ring and Parsifal were premiered here and his most important stage works continue to be performed at the annual Bayreuth Festival, run by his descendants. His thoughts on the relative contributions of music and drama in opera were to change again, and he reintroduced some traditional forms into his last few stage works, including Die Meistersinger von Nürnberg (The Mastersingers of Nuremberg).
Until his final years, Wagner's life was characterized by political exile, turbulent love affairs, poverty and repeated flight from his creditors. His controversial writings on music, drama and politics have attracted extensive comment – particularly, since the late 20th century, where they express antisemitic sentiments. The effect of his ideas can be traced in many of the arts throughout the 20th century; his influence spread beyond composition into conducting, philosophy, literature, the visual arts and theatre. Adolf Hitler was an admirer of Wagner's music and saw in his operas an embodiment of his own vision of the German nation; in a 1922 speech he claimed that Wagner's works glorified "the heroic Teutonic nature … Greatness lies in the heroic.
Wagner completed Parsifal in January 1882, and a second Bayreuth Festival was held for the new opera, which premiered on 26 May. Wagner was by this time extremely ill, having suffered a series of increasingly severe angina attacks. During the sixteenth and final performance of Parsifal on 29 August, he entered the pit unseen during act 3, took the baton from conductor Hermann Levi, and led the performance to its conclusion.
After the festival, the Wagner family journeyed to Venice for the winter. Wagner died of a heart attack at the age of 69 on 13 February 1883 at Ca' Vendramin Calergi, a 16th-century palazzo on the Grand Canal. The legend that the attack was prompted by argument with Cosima over Wagner's supposedly amorous interest in the singer Carrie Pringle, who had been a Flower-maiden in Parsifal at Bayreuth, is without credible evidence. After a funerary gondola bore Wagner's remains over the Grand Canal, his body was taken to Germany where it was buried in the garden of the Villa Wahnfried in Bayreuth.
Protection from the elements can be so stylish! The particularly attractive semi-cassette of this awning protects the awning fabric from dirt and weather. All components of the bearing structure are distinguished by an extremely long service life and stability. High quality custom-made awning with particularly attractive semi-cassette, which protects the awning fabric from weather interference.
The Benefit of buying a Spettmann Wagner Awning
Beautifully designed semi-cassette providing great protection for the fabric and roller tube.
The most advance smart-shade technology
Precise custom-made awnings from 8' to 20'
Wide range of arm lengths – 6', 8', 10', 12' & 13'
Large selection of frame color choices
Quick order lead time
Large selection of fabrics-(for Drop Ship program -MOQ)
Replaceable cover
Maintenance-free
5 year warranty
Large selection of accessories and options (see "FEATURES" & ACCESSORIES")
Highly qualified technical support team from U.S., Germany and factory direct.
Robust vertical impact protection against wind
Available with manual operation, electric hardwire motor or remote operated motor
Brackets and fittings included in delivery package
The Benefit of a Drop-Valance
The special thing about the Drop-Valance awning is its vertically lowerable edging. It protects against curious neighbors, and it guarantees optimal protection from glare even when the sun is low in the sky.
Edging lowerable by up to approximately 6'
Lower rod on edging for stability in wind
Custom manufacturing down to the last inch
Extendable valance shade
The Benefit of an Easy Crank Pitch
The Crank Pitch will protect you from sunlight at any time of day. The expanded pitch adjustment makes it easy for you to adjust the position of the awning to suit the location of the sun in the sky
Continuous pitch adjustment between 0 and 45 degrees
Easy manual operation
Custom manufacturing down to the last inch
Brackets and fittings included in delivery package
The Benefit of a XXL "Crossover Arm" System
No patio is too deep for the XXL. The extremely generous depth, together with a narrow width, makes it the ideal shade option for narrow, low balconies.
Extra depth, up to 12'
Robust hinged arms placed on top of each other
Custom manufacturing down to the last inch
Brackets and fittings included in delivery package
Extendable valance shade
Spettmann Basic
Our basic package includes a 7:1 ratio gear box and a 5' crank handle. Our standard gear drive allows for a quick and easy opening and closing. The portable crank handle can be stored until needed.
Spettmann Plus
Electric Motor with Switch
The push of a button and a 120volt connection are enough, and in just a few seconds, your patio on door/window will be transformed into a shady outdoor area. An electric motor integrated into the fabric roll makes it possible. Quietly and conveniently.
Spettmann Plus
Electric Motor with Remote and Emergency Manual Override
There is construction work going on outside your home and suddenly the power supply is interrupted. For cases like these, Spettmann offers an electric motor with an additional manual winder. So even if worst comes to worst, you will be well equipped.
Built-In LED Lights

Electric Motor with Switch (hardwire)

Manual Override Electric Motor (w/plug) and Remote Control

Wind Sensor

Rafter Bracket

Various Installation Brackets

Adjustable Pitch

XXL (Crossover arms) sysytem

Extendable Valance Shade
Coated steel bearing tube

High quality powder coating

Robust vertical impact protection against wind

Easy to operate pitch adjustment between 0 and 45 degrees

Custom manufacturing down to the last inch, from a width of 8' 

Standard mounting brackets included in delivery package

Aluminum protective cassette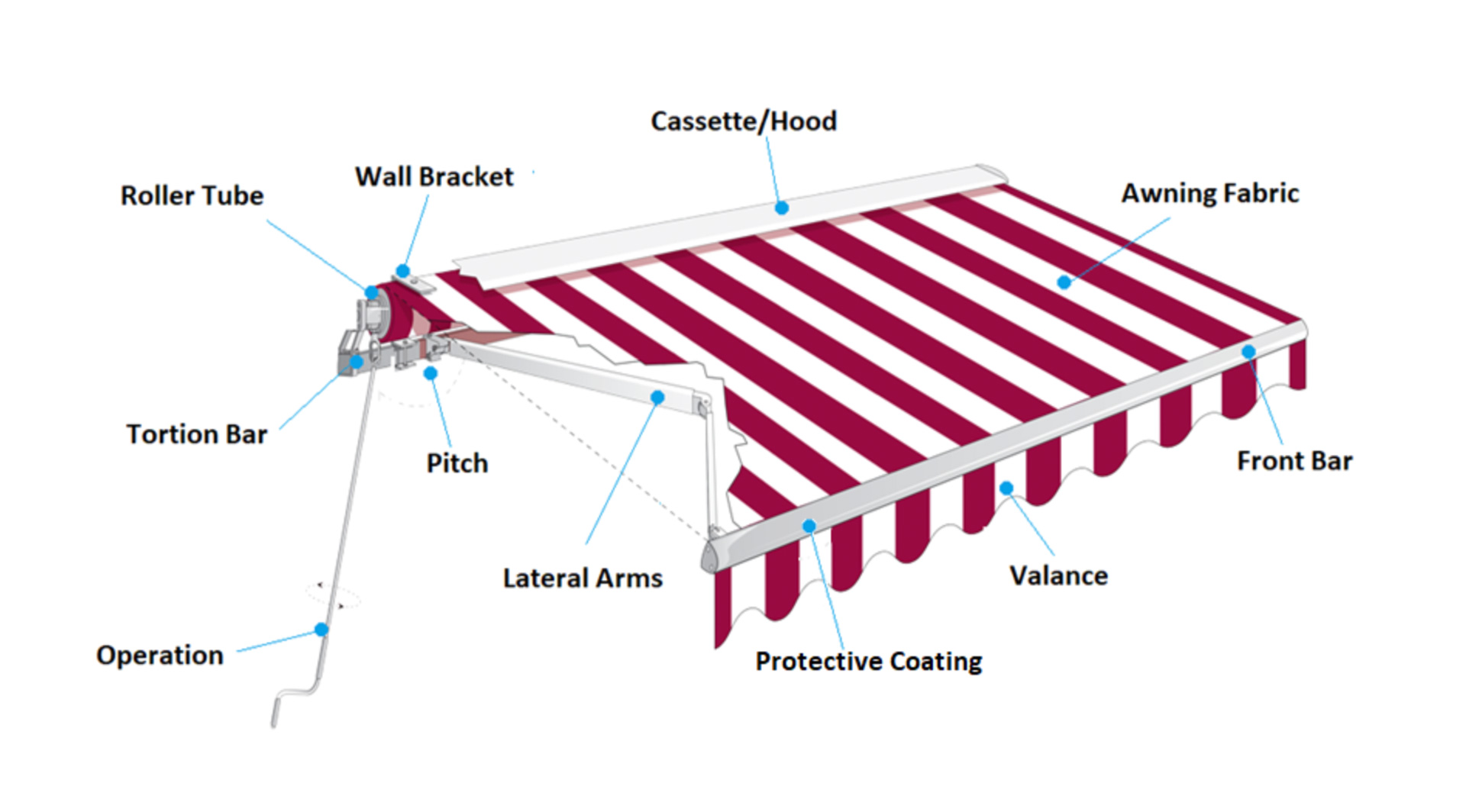 Roller Tube
We carry both 70mm @ 20' & 78mm @ 23' fabric roller tubes. They are roll formed using galvanized steel to precise dimensions with a thickness gauge of .047 – .057 inches.
Wall Bracket
Spettmann offers installation brackets for walls, ceilings, roofs & rafters. Made from the highest grade of Aluminum.
Cassette/Hood
Protecting the fabric is very important for long lasting shade. We offer a hood for the basic open style awnings to a semi-cassette and a full cassette for maximum protection.
Awning Fabric
The awning fabric provides comfortable shade and protection UV rays and glare. The fabric Spettmann offers are made of fade and weather resistant material.
Front Bar
The front bar forms the front edge of the awning and helps keep the fabric straight and taut. The front bar is made of extruded aluminum.
Valance
The valance not only provides an attractive face for the awning but also additional shade as the sun sets in the evening.
Protective Coating
All our awning component parts are protected with the highest quality of powder coating that will provide years of enjoyment.
Lateral Arms
The arms, with internal springs, extends and retracts the awning. The arms continuously apply tension on the fabric keeping the fabric straight and taut.
Operation
The awning can be operated using a manual gear drive or electric motor. The motor can be operated by a remote control or a wall switch
Pitch
The range of pitch on our awning is 0 to 45 degrees, however, we recommend 15 degrees. We carry the standard adjustable pitch unit along with various crank pitch units.
Torsion Bar
The torsion bar is the foundation of the awning. All the load and stress is transferred onto the torsion bar, so it is important to have a strong and secure torsion bar.
Width Sizes: 8' – 20' (custom sizes available)
Projections: 6', 8', 10', 12' & 13'
Arm Style: S2 with internal spring
Standard Features: Semi Cassette, S2 Arms, Adjustable Pitch
Operations: 7:1 Manual Gear Drive or motorized available