BENZ
(MONARCH)
Our classic design for patio and balcony: stable, functional, and proven thousands of times over
Bertha Benz, a strong woman who changed our transportation
A story about a very brave woman with great perseverance who helped create a new era of our history.
On 5 August 1888, 39-year-old Bertha Benz endeavored on a trip that would have one of the most significant impacts on the modern world. Bertha, along with her two teenage sons Richard and Eugen, without telling her husband, the founder and inventor Karl Benz, and without permission of the authorities, climbed into their newly developed and experimental Model III automobile and drove 66 miles(106km) from Mannheim to Pforzheim, along old wagon tracks to visit her mother. Thus, becoming the first person to drive an automobile of any significant distance. Before this historic trip, motorized drives were merely short trial runs, returning to the point of origin, made with assistance of mechanics.
Bertha Benz had a special reason and motivation for accomplishing this journey. When realizing that her husband, Karl Benz was losing faith in the development of his automobile after a few failed attempts and not adequately considering marketing his invention. Bertha decided she had to build up his confidence and his conviction to this project. She believed the automobile in which they both had heavily invested would become a financial success once it was shown to be useful to the general public and to give her husband the assurance that his automobile had a future.
She left home around dawn, solving numerous problems along the way. Bertha demonstrated her significant technical capabilities on this journey. With no fuel tank and only a 4.5-litre supply of petrol in the carburetor, she had to find ligroin, the petroleum solvent needed for the car to run. It was only available at apothecary shops, so she stopped in Wiesloch at the city pharmacy to purchase the fuel. At the time, petrol and other fuels could only be bought from chemists, and so this is how the chemist in Wiesloch became the first fuel station in the world.
She even had to clean a blocked fuel line with her hat pin and used her garter as insulation material. A blacksmith had to help mend a chain at one point. When the wooden brakes began to fail, Benz visited a cobbler to install leather, making the world's first pair of brake lining. An evaporative cooling system was employed to cool the engine, making water supply a big worry along the trip. The trio added water to their supply every time they stopped. The car's two gears were not enough to surmount uphill inclines and Eugen and Richard often had to push the vehicle up steep roads. They finally reached Pforzheim a little after dusk, notifying her husband of her successful journey by telegram. She drove back to Mannheim several days later.
The novel trip received a great deal of publicity, as she had sought. The drive was a key event in the technical development of the automobile. The pioneering couple introduced several improvements after Bertha's experiences. She reported everything that had happened along the way and made important suggestions, such as the introduction of an additional gear for climbing hills and brake linings to improve brake-power. The Bertha Benz journey had a lasting effect on the burgeoning automotive industry.
"a new era of human history was just born".
The Benz appeals for its easy operation, attractive appearance and, last but not least, it's a great value for the money. The open bearing rod and the fabric roll are protected from corrosion by a special galvanizing treatment. Thanks to a powder-coated and/or anodized aluminum hinged arm, and robust vertical impact securing, this awning is resilient against weather impacts.
The Benefits of Spettmann
Quality custom-made awning
Quick delivery
Simple DIY installation
Large selection of fabrics – various accessories
Replaceable fabric
Maintenance-free
5 year warranty
Easy to operate crank pitch between 0 and 45 degrees
Robust vertical impact protection against wind
Available with manual winder, electric motor, remote operated motor
Custom manufacturing down to the last inch
Brackets and fittings included in delivery package
"The Benz open awning by Spettmann is a perfect solution for many garden light and temperature control goals. Create the perfect awning for your needs by adding some of the many options available.
The special thing about the Drop-Valance awning is its vertically lowerable edging. It protects against curious neighbors, and it guarantees optimal protection from glare even when the sun is low in the sky.
Edging lowerable by up to approximately 6' / 180 cm
Lower rod on edging for stability in wind
Custom manufacturing down to the last inch
Extendable valance shade
The Crank Pitch will protect you from sunlight at any time of day. The expanded pitch adjustment makes it easy for you to adjust the position of the awning to suit the location of the sun in the sky
Continuous pitch adjustment between 0 and 45 degrees
Easy manual operation
Custom manufacturing down to the last inch
Brackets and fittings included in delivery package
No patio is too deep for the XXL. The extremely generous depth, together with a narrow width, makes it the ideal shade option for narrow, low balconies.
Extra depth, up to 12' / 360 cm
Robust hinged arms placed on top of each other
Custom manufacturing down to the last inch
Brackets and fittings included in delivery package
Extendable valance shade
Spettmann Basic
Electric Motor with Switch
The push of a button and a 120 volt connection are enough, and in just a few seconds, your patio on door/window will be transformed into a shady outdoor area. An electric motor integrated into the fabric roll makes it possible. Quietly and conveniently.
Spettmann Plus
Electric Motor with Remote and Emergency Manual Override
There is construction work going on outside your home and suddenly the power supply is interrupted. For cases like these, Spettmann offers an electric motor with an additional manual winder. So even if worst comes to worst, you'll be well equipped.
Built-In LED Lights

Electric Motor with Switch (hardwire)

Manual Override Electric Motor (w/plug) and Remote Control

Wind Sensor

Rafter Bracket

Various Installation Brackets

Adjustable Pitch

XXL (Crossover arms) sysytem
Extendable Valance Shade

Coated steel bearing tube

High quality powder coating

Robust vertical impact protection against wind

Easy to operate pitch adjustment between 0 and 45 degrees

Custom manufacturing down to the last inch, from a width of 8' 

Standard mounting brackets included in delivery package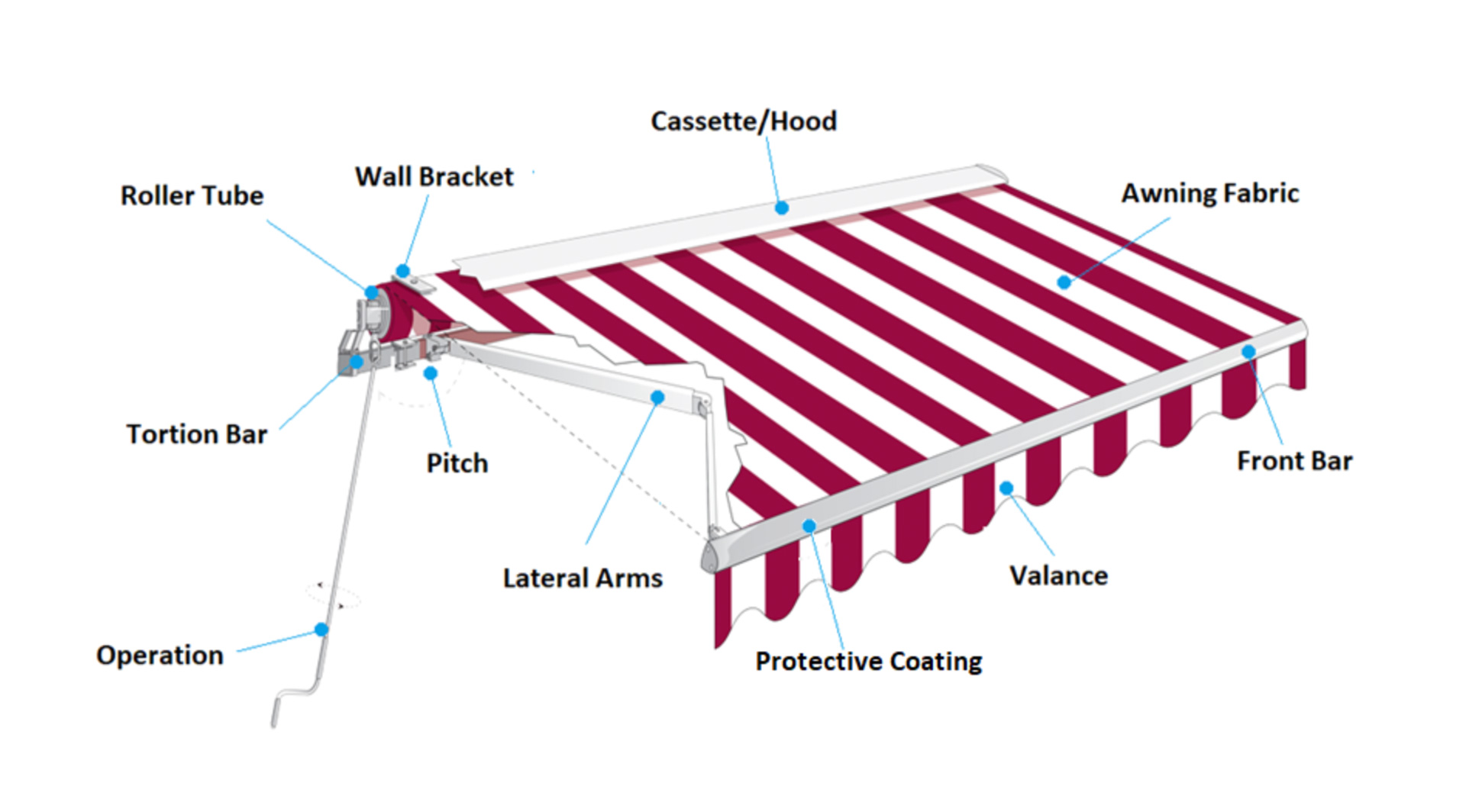 Roller Tube
We carry both 70mm @ 20' & 78mm @ 23' fabric roller tubes. They are roll formed using galvanized steel to precise dimensions with a thickness gauge of .047 – .057 inches.
Cassette Housing
Protecting the fabric is very important for long lasting shade. We offer a hood for the basic open style awnings to a semi-cassette and a full cassette for maximum protection.
Wall Bracket
Spettmann offers installation brackets for walls, ceilings, roofs & rafters. Made from the highest grade of Aluminum.
Valance
The valance not only provides an attractive face for the awning but also additional shade as the sun sets in the evening.
Front Bar
The front bar forms the front edge of the awning and helps keep the fabric straight and taut. The front bar is made of extruded aluminum.
Awning Fabric
The awning fabric provides comfortable shade and protection UV rays and glare. The fabric Spettmann offers are made of fade and weather resistant material.
Protective Coating
All our awning component parts are protected with the highest quality of powder coating that will provide years of enjoyment.
Lateral Arms
The arms, with internal springs, extends and retracts the awning. The arms continuously apply tension on the fabric keeping the fabric straight and taut.
Operation
The awning can be operated using a manual gear drive or electric motor. The motor can be operated by a remote control or a wall switch
Pitch
The range of pitch on our awning is 0 to 45 degrees, however, we recommend 15 degrees. We carry the standard adjustable pitch unit along with various crank pitch units.
Torsion Bar
The torsion bar is the foundation of the awning. All the load and stress is transferred onto the torsion bar, so it is important to have a strong and secure torsion bar.
Width Sizes: Standard 8' – 20' (custom sizes are available, over 20' requires a splice)
Projections: 6', 8', 10', 12' & 13'
Operations: Gear Drive or motorized available