BONHOEFFER
(VENUS)
This classic window awning will provide years of beautiful shade and privacy for your home
Dietrich Bonhoeffer (1906-1945)
Dietrich Bonhoeffer, born February 4, 1906, Breslau, Germany. Flossenburg, Germany. A German Protestant theologian important for his support of ecumenism and his view of Christianity's role in a secular world. His involvement in a plot to overthrow Adolf Hitler led to his imprisonment and execution. His Letters and Papers from Prison, published posthumously in 1951, is perhaps the most profound document of his convictions.
Bonhoeffer grew up amid the academic circles of the University of Berlin, where his father, Karl Bonhoeffer, was a professor of psychiatry and neurology. Later, Dietrich Bonhoeffer studied theology at the universities of Tubingen and Berlin and was influenced by the historical theologians Adolf von Harnack, Reinhold Seeberg, and Karl Holl but also was strongly attracted to the new "theology of revelation" propounded elsewhere by Karl Barth.
Starting in 1933, Bonhoeffer was involved in protests against the Nazi regime, especially its anti-Semitism, during which he served as pastor of two small German congregations in London, where Bonhoeffer became a leading spokesman for the Confessing Church, the centre of German Protestant resistance to the Nazi regime. Bonhoeffer was fierce in his defense of a nonracial definition of Jews. In 1935 Bonhoeffer was appointed to organize and head a new seminary for the Confessing Church at Finkenwalde,where he introduced the practices of prayer, private confession, and common discipline.
In 1943, Bonhoeffer was arrested and eventually imprisoned. His fiancée Maria von Wedemeyer, the granddaughter of his close friend Ruth von Kleist Retzow would visit and provide food and news from the outside. For a year and a half, Bonhoeffer was imprisoned at Tegel military prison awaiting trial. There he continued his work in religious outreach among his fellow prisoners and guards. Sympathetic guards helped smuggle his letters out of prison to Eberhard Bethge and others, and these uncensored letters were posthumously published in "Letters and Papers from Prison". After the failure of the 20 July Plot on Hitler's life in 1944 and the discovery of secret Abwehr documents relating to the conspiracy, Hitler ordered that the Abwehr conspirators be destroyed. Bonhoeffer was condemned to death in 1945 by SS judge Otto Thorbeck at a court-martial without witnesses in Flossenburg concentration camp. He was executed there by hanging at dawn on 9 April 1945, just two weeks before soldiers from the United States liberated the camp, three weeks before the Soviet capture of Berlin and a month before the surrender of Nazi Germany.
Want to relax without worrying about your privacy? A Spettmann Bonhoeffer window awning, will provide you that piece of mind. Bonhoeffer also provides protection against harmful UV rays. Will increase energy efficiency in your home as well as protect your interior furniture. Bonhoeffer window awning is offered with or without a cassette cover, with or without a motor. Comes in various arm lengths from 24" to 48".
The Benefit of Buying a Spettmann Bonhoeffer Window Awning
Bonhoeffer, has the ability to operate manually or just relax and control your window awning using a remote control. It can be operated using your smart phone thru our Smart-Shade app. This product has a great economical cost.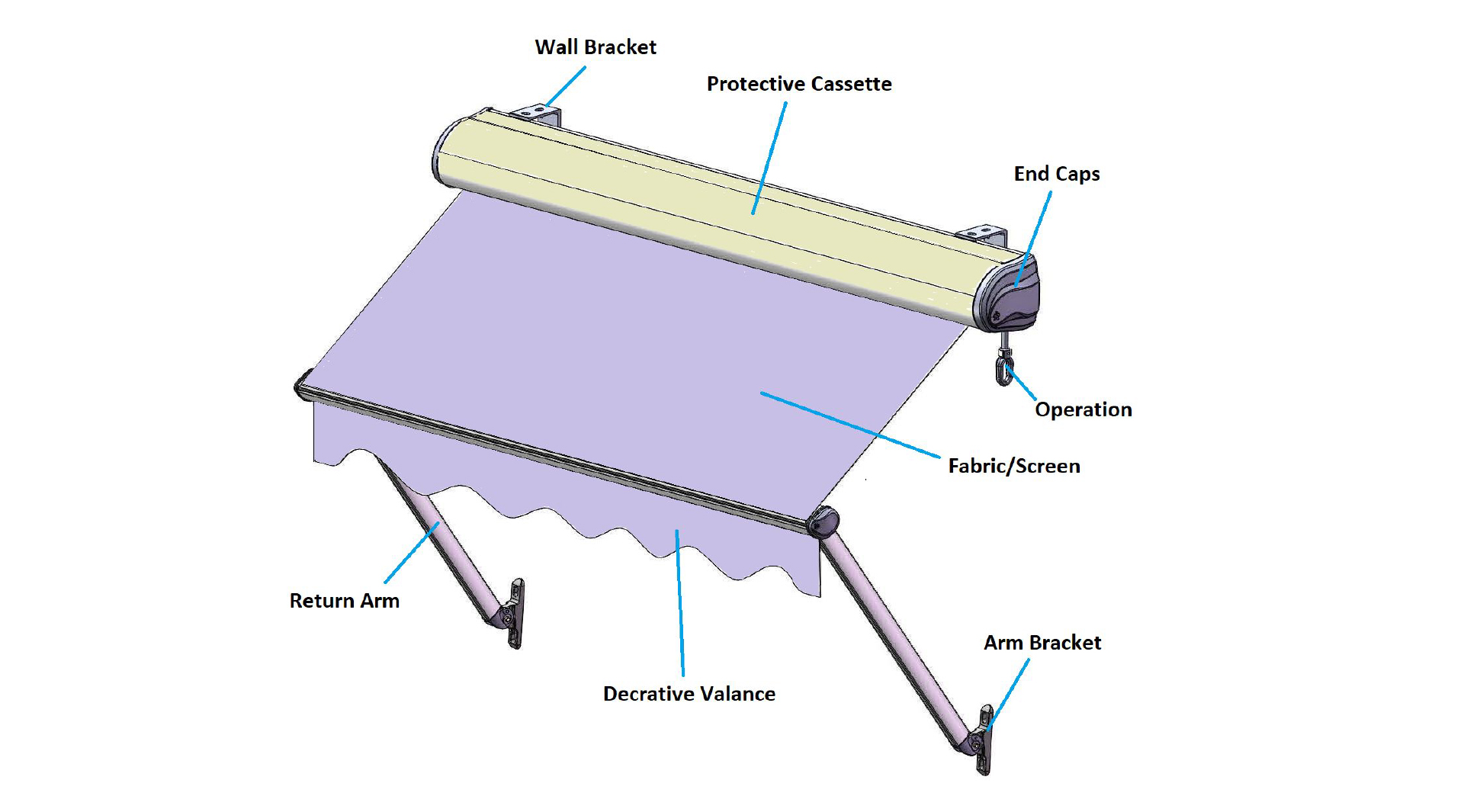 Wall Bracket
Spettmann offers installation brackets for walls, ceilings, roofs & rafters. Made from the highest grade of Aluminum.
Cassette Housing
Protecting the fabric is very important for long lasting shade. We offer a semi-cassette housing to protect and extend the life of the product.
Fabric or Screen
If using a mesh screen or fabric, they will provide provides comfortable shade and protection UV rays and glare. The fabric Spettmann offers are made of fade and weather resistant material. The mesh screen does will allow greater ventilation.
Valance
Our window awnings can be equipped with a decorative valance.
Return Arm
Our window awning uses spring-loaded arms made of high-quality aluminum.
Arm Bracket
Our arm systems have a wall bracket designed specifically for the type of guide system you desire, including a locking pin for easier installation. Made from die-cast aluminum and powder coated for protection.
Protective Coating
All our Drop Shade component parts are protected with the highest quality of powder coating that will provide years of enjoyment.
Front Bar
The front bar is made of extruded aluminum tubing and powder coated for protection and includes a track for attaching a front valance.
Operation
The Drop Shade can be operated using a manual gear drive or electric motor. The motor can be operated by a remote control or a wall switch.
Roller Tube
We carry both 70mm @ 20' & 78mm @ 23' fabric roller tubes. They are roll formed using galvanized steel to precise dimensions with a thickness gauge of .047 – .057 inches.
Width Sizes: 3' – 20' (custom sizes available)
Arm Length: 24", 30", 36", 42" & 48" with internal spring
Operations: 7:1 Manual Gear Drive or motorized available