LUTHER
(APOLLO)
This classic shade will provide excellent shade and privacy
Luther, the religion Reformer and God's servant
Martin Luther (born 10 November 1483 – 18 February 1546) was a German professor of theology, priest, author, composer, Augustinian monk, and a seminal figure in the Reformation. Luther was ordained to the priesthood in 1507. He came to reject several teachings and practices of the Roman Catholic Church; in particular, the view on indulgences. Luther proposed an academic discussion of the practice and efficacy of indulgences in his Ninety-five Theses of 1517. His refusal to renounce all of his writings at the demand of Pope Leo X and the Holy Roman Emperor Charles V resulted in his excommunication by the pope and condemnation as an outlaw by the Holy Roman Emperor.
On October 31, 1517, Martin Luther posted his Ninety-five Theses against papal indulgences, or the atonement of sins through monetary payment, on the door of the church at Wittenberg, Germany. Within less than four years, the Catholic Church would brand Luther a heretic, and the Holy Roman Empire would condemn him as an outlaw. These were the early years of the Protestant Reformation, a turning point in history that would transform not only the Christian faith, but also the politics and society of all of Europe.
The clash between Luther and the Catholic Church in Rome was also history's first "media event." Johannes Gutenberg's development of the moveable-type printing press about seventy-five years earlier had a profound impact on the spread of Luther's thought. Thanks to the new technology, his theses soon reached a broad circulation that surprised even Luther. As he expanded his critique into other areas of church policy and the conflict with Rome intensified. Luther's supporters in Germany's vibrant print industry made many of his works the first "bestsellers" in history and Luther himself among the most famous men in Europe.
The following selections of Luther's and other Reformation-era works at the Library of Congress document not only the progress of Luther's thought as the conflict with Rome took shape, but also how printing in Germany blossomed into a mass medium as public interest in the controversy continued to grow.
Luther taught that salvation and eternal life are not earned by good deeds but are received only as the free gift of God's grace through the believer's faith in Jesus Christ. His theology challenged the authority and office of the pope by teaching that the Bible is the only source of divinely revealed knowledge.
His translation of the Bible into the German vernacular made it more accessible to the laity, an event that had a tremendous impact on both the church and German culture. It fostered the development of a standard version of the German language, added several principles to the art of translation, and influenced the writing of an English translation, the Tyndale Bible. His hymns influenced the development of singing in Protestant churches. His marriage to Katharina von Bora, a former nun, set a model for the practice of clerical marriage, allowing Protestant clergy to marry.
In two of his later works, Luther expressed antagonistic, violent views towards Jews and called for the burnings of their synagogues and their deaths. His rhetoric was not directed at Jews alone but also towards Roman Catholics, Anabaptists, and nontrinitarian Christians. Luther died in 1546 with Pope Leo X's excommunication still in effect.
Want to relax without worrying about your privacy? Spettmann's drop shade, Luther, will provide you that piece of mind. Luther also provides protection against harmful UV rays. Will increase energy efficiency in your home as well as protect your interior and exterior furniture. Luther is offered with or without a cassette cover, with or without a motor.
The Benefit of Buying a Spettmann Luther Drop Shade
Luther has many uses. It can be used as a decretive interior shade unit, an exterior window screen or a drop shade attached to an awning. It can be used with a wire guide or an aluminum rod system. This product has a great economical cost.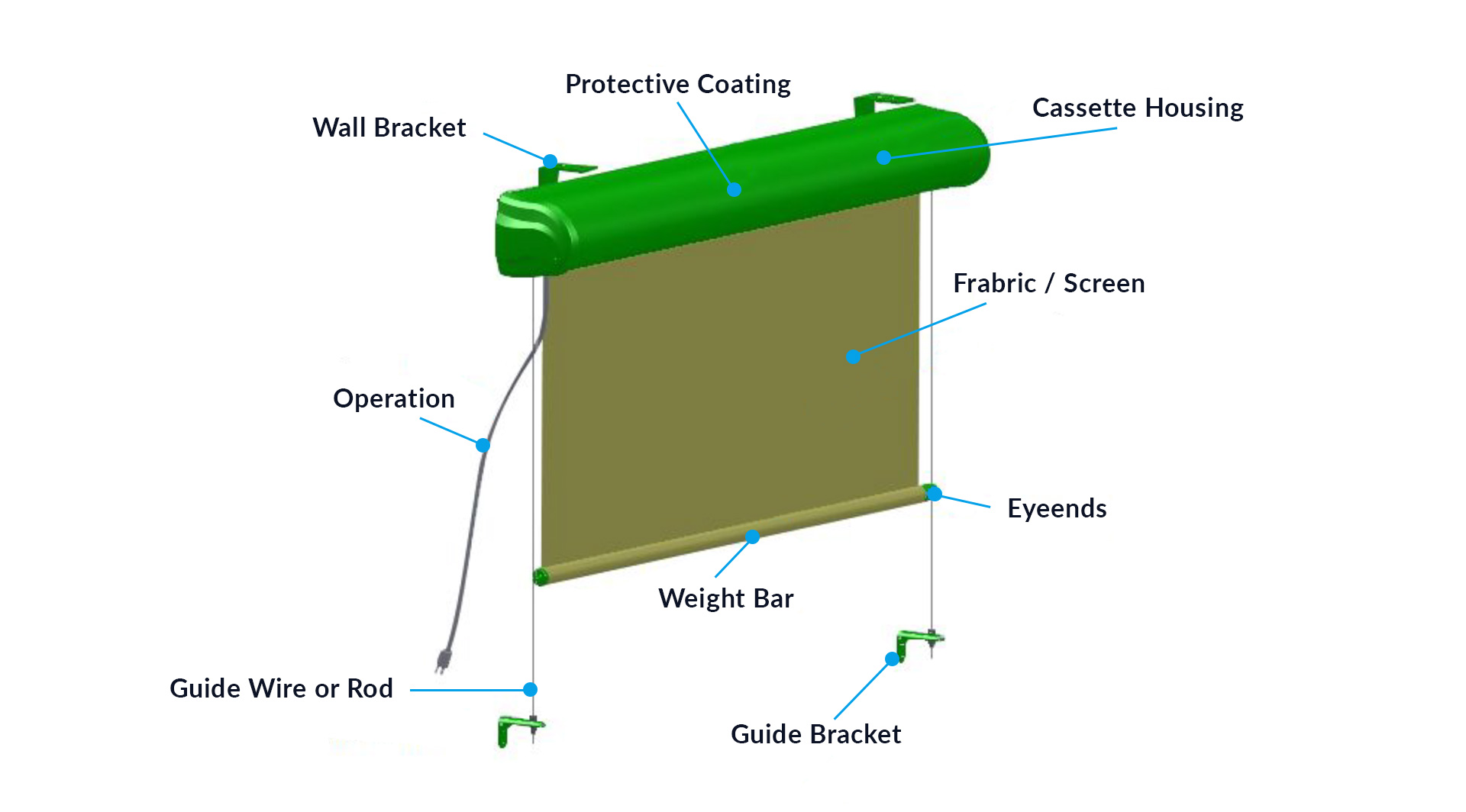 Wall Bracket
Spettmann offers installation brackets for walls, ceilings, roofs & rafters. Made from the highest grade of Aluminum.
Cassette Housing
Protecting the fabric is very important for long lasting shade. We offer a semi-cassette housing to protect and extend the life of the product.
Roller Tube
We carry both 70mm @ 20' & 78mm @ 23' fabric roller tubes. They are roll formed using galvanized steel to precise dimensions with a thickness gauge of .047 – .057 inches.
Fabric or Screen
If using a mesh screen or fabric, they will provide provides comfortable shade and protection UV rays and glare. The fabric Spettmann offers are made of fade and weather resistant material. The mesh screen does will allow greater ventilation.
Guide Wire or Rod
The Apollo can be assembled with the standard Stainless Steal wire system or the new Aluminum rod system providing a more rigid guide design.
Guide Bracket
Our guide systems have a wall bracket designed specifically for the type of guide system you desire. Made from die-cast aluminum and powder coated for protection.
Protective Coating
All our Drop Shade component parts are protected with the highest quality of powder coating that will provide years of enjoyment.
Weight Bar
The weight bar is made of 7/8" steal tubing and powder coated for protection.
Operation
The Drop Shade can be operated using a manual gear drive or electric motor. The motor can be operated by a remote control or a wall switch.
Eye Ends
Our eye ends are designed to connect the weight bar to the specific guide system desired. Designed to run smoothly as the shade is opened and closed.
Width Sizes: 3' – 20', (custom sizes available)
Drop Length: Standard 8'
Operations: Manual Gear Drive or motorized available